Blue Ridge Koi Probiotic Plus Koi and Goldfish Food is the same Growth Formula that you depend on, enhanced with Primalac probiotic, vitamin C and montmorillonite clay to keep your Koi and Goldfish healthy and thriving.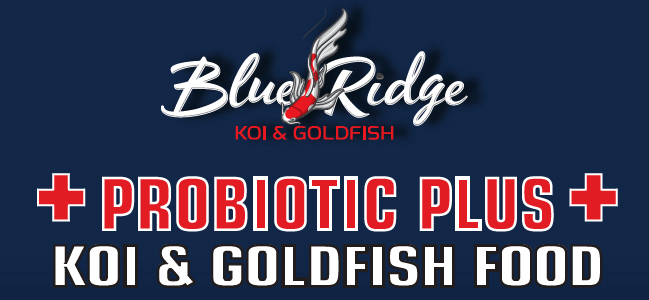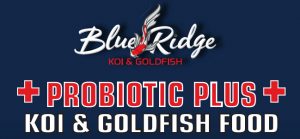 The Probiotic Plus additives provide
Increased immunity to bacterial infection, reducing the chances your Koi fall victim to ulcer disease, fin rot and tail rot
Improved digestion
Increased growth rates
Enhanced coloring, including deeper reds and crisper whites
Essential minerals and trace elements that are typically filtered out of municipal water sources
Read on for information and studies detailing how these added enhancements help to prevent bacterial infection and keep your fish happy and healthy.
Primalac Probiotic
Primalac is a powerful probiotic used in food intended for livestock and pets as well as aquaculture.  Primalac works by maintaining an optimal microbial balance of good bacteria over pathogenic bacteria, increasing growth, health and immunity.
The single greatest benefit for Koi hobbyists is the increased immunity to bacterial infection, which significantly lowers the possibility of your Koi falling victim to ulcer disease, fin rot and tail rot.
Primalac also helps your Koi get the most out of their food, increasing your food conversion rate and growth rate.
Take a look at these studies for more in-depth information on the benefits of Primalac.
The Effect of Primalac on Disease Resistance of Common Carp (Cyprinus carpio)
Summary: Common Carp which were regularly fed Primalac formula exhibited increased resistance to bacterial infection when challenged with Aeromonas spp., the causative agents of Ulcerative Disease of Carp.
The Effect of Primalac on Growth and Performance of Tilapia in earthen fish ponds in Ein Hamifrats Fisheries
Summary: Diet supplemented with Primalac improved food conversion rate, yield and survival rate in tilapia.
Influence of Primalac Probiotic on Growth Performance, Blood Biochemical Parameters, Survival and Stress Resistance in the Caspian Roach (Rutilus Rutilus) Fry
Summary: Caspian Roach fed varying levels of Primalac displayed improved growth performance, including final weight, weight gain and specific growth rate.  The group fed the highest level of Primalac had significantly improved condition factor and food conversion rate.
Vitamin C
Vitamin C has long been known as an important part of a healthy diet for many organisms.  Fish fed with vitamin C enhanced foods repeatedly show improved growth, physiology and immunity.
Use of vitamin C as an immunostimulant. Effect on growth, nutritional quality, and immune response of Labeo rohita
Summary: Fish fed a vitamin C supplemented diet showed higher specific growth rate compared with control fish.  Different haematological and serological parameters along with non-specific immune parameters were influenced by vitamin C supplementation.  Higher levels of dietary vitamin C significantly enhanced protection against Aeromonas hydrophilia infection compared with controls.
Synergistic effects of dietary nano selenium and vitamin C on growth, feeding and physiological parameters of mahseer fish
Summary: Vitamin C in conjunction with dietary nano selenium showed significantly improved growth, feeding and physiological parameters of juvenile mahseer.
The effects of dietary vitamin C on mucosal immune responses and growth performance in Caspian roach fry
Summary: Dietary vitamin C beneficially affects the skin mucus immune parameters and growth performance of Caspian roach fry.
The role of vitamin C as antioxidant in protection of biochemical and haemotological stress induced by chlorypyrifos in freshwater fish Clarias batrachus
Summary: Fish fed vitamin C enhanced food exhibited significant improvement in growth, survival, haemotological indices, brain AChE, live glycogen and oxidative enzyme activity.
Montmorillonite Clay
Montmorillonite clay, also known as koi clay, has long been heralded as an important additive for Koi and Koi ponds.
Most hobbyists have a municipal water source for their pond.  Cities and towns filter minerals and trace elements out of these water sources.  These minerals and trace elements are important for a health pond and healthy fish, and can be added back to the water using montmorillonite clay.
Benefits of montmorillonite clay include:
increases and strengthens the beneficial bacteria in your pond and filter
improves digestion in your fish
helps the coloring of Koi, producing deeper reds and crisper whites
attracts and absorbs toxins such as heavy metals, free radicals and pesticides
Check out some of these articles for further information on montmorillonite clay:
Clay in Ponds?  Calcium Montmorillonite
Montmorillonite / Bentonite Clay in Koi Ponds